I reset my phone to FP Open OS 16.11. and restored a lot of my apps. I sync my contacts with DAVDroid an use 2 SIM cards (private/work).
I have myself as a contact, with both SIM numbers in my phone.
I press the Owner icon, and then "Weitere Einstellungen"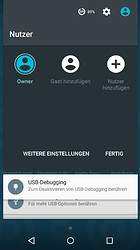 If I then click on "Ich (Owner)" the message "This contact does not exist" appears.

In all my previous installation, my FP2 always found me.