Google must have added this to the updated gms package
Ho do you get updates on FP3? There's no Updater app like FP2 had
settings->system->systemupdate
i still am on 1 August. I have an unlocked bootloader also and I cannot sideload the OTA to my device either, I get this error:
Installing update...
E:Package is for source build 10011803 but expected 08161740

Installation aborted.

Edit: in recovery logs it says it verified the update and then aborted it because of the same reason, I am also on sky mobile which Chris_R mentioned.
Im in the Update top. Volte and Vowifi doesnt Work in this build.
Hi Stefan, what exactly do you mean by "doesn't work"? My FP3 is on the latest system update, is running on the "Extended LTE mode" (= VoLTE IMHO) and asking me to activate VoWiFi.
Hi, my Phone was on extended LTE too, but at the Last update is the Switch away.
I still have the switch (Settings - Network & Internet - Mobile network - Advanced - Enhanced 4G LTE Mode), and it's still enabled.
Try the following:
Dial *#*#4636#*#* to get into the "Testing" Menu.
Choose "Phone1 information" (or "Phone2 information" for SIM No. 2) and check whether "VoLTE provisioned" and "Wi-Fi Calling provisioned" are still enabled, in my understanding meaning the phone would support it if the mobile network provider and the respective tariff plan supported it, too.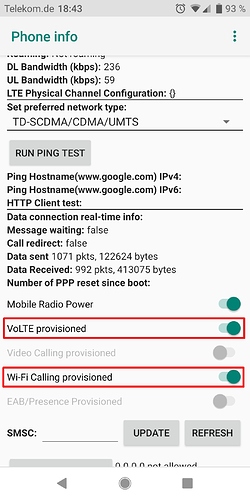 How do you check whether VoLTE doesn't work?
When i Made a call phone switched Back to edge