Der 5.12. würde bei mir passen.
Auja! 05.12. sollte auch bei mir gehen…
Hier habe ich das Facebook Event erstellt. Bitte tragt euch dort ein (oder per PM an mich), damit ich den Tisch bestellen kann. Ich werde erst ab 20:00 können, aber ihr könnt schon vorher hin.



Ich schubse mal den Beitrag nach oben. Ich hoffe ihr erscheint alle trotz des Schnees!



Ich kann diesmal leider nicht. Viel Spaß euch und hoffentlich bis zum nächsten mal!
Gestern war das 4. Stuttgarter Treffen.
Wie bei den letzten Malen auch wieder neue und alte Gesichter, aber allesamt eine nette Runde. Wir waren zu elft (1 FP1, 8 FP2 und zwei Interessierte)

Wir hatte eine bunte Mischung an Fairphones:

Wir haben das neue, kommende Fairphone Community Logo nachgestellt.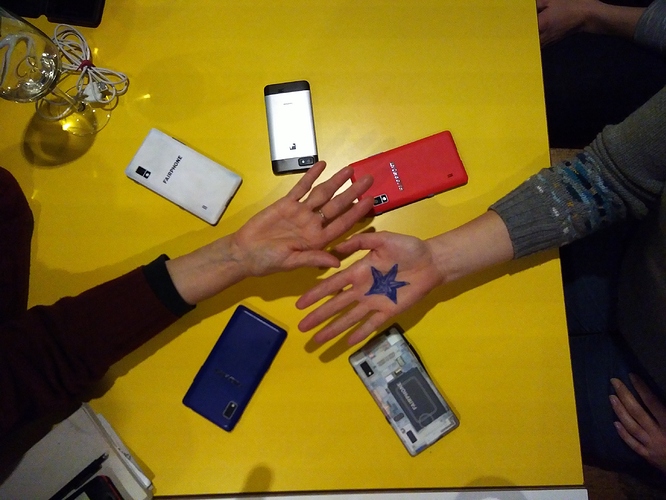 Themen des Abends waren Warum Fairphone, Easter Eggs im Android, FP1 Auseinandernehmen und das immer wieder vorkommende App Vergleichen.
Hat Spaß gemacht gestern
Ich hab auch ein paar Themen aufgeschrieben, falls ich später noch einmal darauf zurückkommen sollte:
Das mit dem Nougat Easter Egg tat bei meiner Frau leider nicht (Katze ist nicht aufgetaucht
).
Oh, und ich wurde ja gefragt, ob welche Apps ich verwende. Hab einen entsprechenden Artikel auch im Blog.
Wenn jemand die Artikel auf Deutsch haben will, kurz melden. Ich les hier wohl auch ab und an mit

Bisher hatte ich immer auf Deutsch gebloggt (unter meiner wordpress.com Subdomain), wollte aber mehr international gehen.
Nächstes Mal bring ich Bekannte mit!
Oh, und ein paar Leute hatten am Anfang nach dem Fairphone Community Portal gefragt. Thread dazu ist 👼 The Fairphone Angels Program (Local support by community members) - Vorschläge willkommen
No Fairphone Meetup is complete without you picture. Love it!!
Who's up for a meeting in April? Here is the doodle link. I will close the poll on March 4th.
Oh das ist aber nett, dass ihr in Stuttgart meinen Geburtstag feiert!
Na dann komm doch vorbei, ich spendiere sogar eine Bionade!


Muss schaun ob ich da Zeit hab. Ich glaub an dem Tag hab ich schon etwas vor…
I'd prefer a get-together closer to Stuttgart…
Do one yourself:
I live near Stgt. But let's first wait until my FP arrives.
Please note: my reservation for Tuesday was cancelled - am looking for a new place. Watch here for notification.