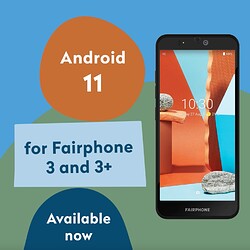 Hi everyone,
We're really happy to announce that Android 11 is now officially available for Fairphone 3 and 3+ users


Software Versions: 8901-4.A.0010 and 8901-4.A.0011
Security Patch Level: 5th of April, 2022
Update: OS upgrade to Android™ 11
Please note:
The staged roll out starts today. When available, you'll receive a push notification to automatically update.
Two different software versions will cover different audiences, although there is no difference in terms of features or quality of the software.