Did you understand Stefan's suggestion? That's sounds like a good idea
I see there complete second-hand FPs. That's not what I'm looking for.
Does one really have to fill out complicated export documentation for a bit of plastic with holes in it worth less than €10?
I think Stefan meant that you may get into contact with someone who lives in another country. He gets the piece delivered and then ships it to you without difficult regulations, just as a "gift" in a letter for 3€ postage or so.
I'd offer you to do that but for me, shipping+midframe is 23€ (+shipping Germany-Switzerland). Maybe in the other forum you can find someone from the Netherlands who buys you the midframe with little shipping and puts it into a normal envelope and sends it to you as a "gift" (which is free of customs/tolls/…, isn't it?)
That is a good idea too (even better!), but actually I meant that you, @greyowl, should look for a broken FP1 (my link was directing to an "organ-donor"), or ask in that thread, if someone has a functional midframe to spare.
I like yours better because you make use of a possibly broken, useless piece of plastic which would've gotten thrown away and you can make it useful again (before it gets thrown away anyway)
Just for the record, I think there are several companies near the border offering a delivery address in Germany for people ordering stuff from Switzerland.
AFAIK, it's usually pick-up service, i.e. you order, they inform you when the parcel arrives, and you pick it up. Of course, that's only an option for people who live near the border - or knows someone who drives to Germany on Saturdays for shopping, like many Swiss now do.
I received the bill from DHL, they charged 19.- + 3.- for account managing and "Vorlageprov/provision pour avance de fonds". So the total cost for DHL was 50.- + 23.- = 73.-
That is not acceptable, that is the price for fuel from here (switzerland) to Amsterdam by car.
(VAT was 39.-) for the order.
Today, I got an invoice from dpd over
Position                                       CHF

---
Administrativkosten                            10.00
Mehrwegsteuer (Einfuhrumsatzsteuer)            39.30
Vorlageprovision 1.5%, mind. CHF 8.00           8.00

---
Gesamtbetrag CHF                               57.30

(Translation: Administrative costs CHF 10, VAT (import turnover tax) CHF 39.30, disbursement fee CHF 8.00 — grand total CHF 57.30)
Well, I had already thought that the price of 437,50 € was suspiciously lower than the one I had seen in previous announcements, even considering the additional 47,50 € charged by Fairphone for shipping (to Switzerland) and handling. And today I observed that the shop doesn't always display the same price.
Still, this was less transparent a-priori than I hoped it to be.
I also got a bill after I received my fairphone. When I ordered the phone in September, I could chose shipment by DPD or DHL, both were about the same price. I chose DPD and paid €47.50 for that. Now I received the phone not by DPD, but by DHL. In addition I got a bill by DHL. Unlike @QuentinT, it was 60.90 CHF:
Position                                            CHF
---
MwST (VAT)                                        38.90
Vorlageprov. (disbursement fee)                    3.00
Kontoabwicklungsgebühr (Account Management fee)   19.00
---
Gesamtbetrag CHF                                  60.90
Back in September I contacted Fairphone why the price for shippment to Switzerland was that expensive and received the same answer as @zilti. It said: "In the specific example of Switzerland the price includes shipping and export documentation but does not include imports fees". So I knew that I would still need to pay the VAT. But it was never mentioned that there are also some additional fees charged by DHL or DPD!
Furthermore I noticed that now in the online shop there is only the option "shipping by DHL", which now only costs €18.50. This makes me wonder why I paid €30 more for the same service. I somehow have the feeling that I am paying these fees twice.
On the 4. February I wrote a mail to the contact center of Fairphone asking them about these bills. So far I have not received an answer.
I have payed the same like langga.
But sending parcels from other countries to Switzerland is always expensive (3-4× more as for Germany - taxes not included and not seldom higher then costs of the item itself!)
That's why there are a lot of "parcel services" along the border. I normally use one, but the fairphone was to important for me
Same story but only more expensive here
.


I order early as one of the first two FP2 to Switzerland and paid only for shipping around 100 Euro
Today I got a bil from DPD to pai again around 90 Euro for …look to the picture. Iam very disappointed!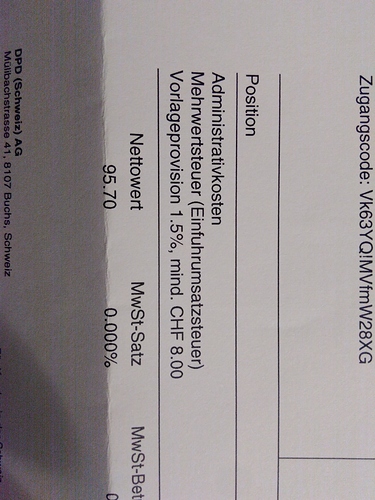 What can I do?
Must I paid again?
Lg ivi
Hi
I got that Invoice as well.
CHF 77 for VAT
CHF 10 for administration
After paying € 49.75 for shiping.
DPD is a deliveryservice for COMPANYES not privat persions.
WHY?
If you are two times not at home it will go back. AND I DID tell them (hookline of 30min!) that im not at home the next day and he agreed to deliver 2 day later. Still, the information did not reach the delivery-guy within 24h so the second try hapend anyway. I wasn't at home and my phone almost whent back to Netherlands…
I was waiting on the third day and it didn't come, so i called again and catched a rar telephone supporter of DPD after 20-30min. in a hookline (!) and he sayed "no there is nothing else i can do, the only possability is to pick it up by your self" so than I drove to the station an picked it. I even rented a car to get there…
Its a Nightmare.
The FP1 came with GLS and that was a much better.
Regards, Novski
BTW: Digitec/Galaxus and Swisscom have started selling Fairphone 2 in Switzerland. So that's a way to avoid all the headaches relative to import taxes.
Nice, I didnt notice.
They sell it 599.- CHF. I paid 493€~ 591 CHF +39.- VAT+23.- handling = 653.-
Did the price from FairPhone changed ?
I reply to myself: They changed something !


Still don't know why we paid 50€ total more than that. It's 18.50€ shipping cost for a 16.66€ battery (Without VAT).