Myphone Explorer geht nur mit Windows. Unter linux muss man alles manuell machen, oder Backupscripte schreiben.
Hab dieses Kabel jetzt für mein FP1U in Betrieb. Da gehen alle Funktionen! Und schont den schon etwas "weichen" Anschluß. Prädikat: Empfehlenswert.
WSKEN Xcable Mini 2nd Gen habe ich auch am FP2.
Laden / Danuebertragung geht
Does the compass still work reliably with a magnet attached to the phone?
(Deutsch unten)
Until today I was not aware that the FPs include a compass - but both types really seem to have one inside. So, I'm afraid a permanent magnet in the USB socket will in fact heavily influence these magnetic sensors and even make them completely useless as long as the tiny thing is plugged in
In the past years, I occasionally used my FP1 succesfully for navigation with 'OsmAnd+' (based on Open Street Map). Long before I bought the magnetic connector I noticed that the phone was unable to detect its real orientation when I was standing still. Only after I had started moving it showed the proper direction. Thus I'd conclude at least OsmAnd does not (necessarily) evaluate the compass sensor but can also determine the orientation via GPS - as long as you keep moving. Which might be another explanation for the slogan that my FP displays during startup…
---
Wusste bisher gar nicht, dass FPs einen Kompass haben. Scheint aber wirklich so zu sein. Und tatsaechlich duerfte ein Kompass vollstaendig nutzlos sein, so lange ein Magnet in der USB-Buchse steckt
In den vergangenen Jahren habe ich mein FP1 gelegentlich erfolgreich fuer die Navigation mit OsmAnd+(basiert auf OpenStreetMap) genutzt; lange bevor ich den Magnetverbinder gekauft habe. Dabei fiel mir auf, dass meine tatsaechliche (Aus)richtung immer erst angezeigt wird, wenn ich mich bewege. Hieraus schliesse ich, dass zumindest OsmAnd den Kompass nicht (unbedingt) verwendet, sondern die Richtung ggf aus den GPS-Infos errechnen kann - so lange man sich bewegt (vgl hierzu auch das Motto des FP1…)
I have backed this project on Indigogo and got my pledge recently.
"https://www.indiegogo.com/projects/muconnect-faster-safer-and-magnetic-charging-apple-android/x/12842391#/" It is a swedish company. The µconnect pro version I am relying on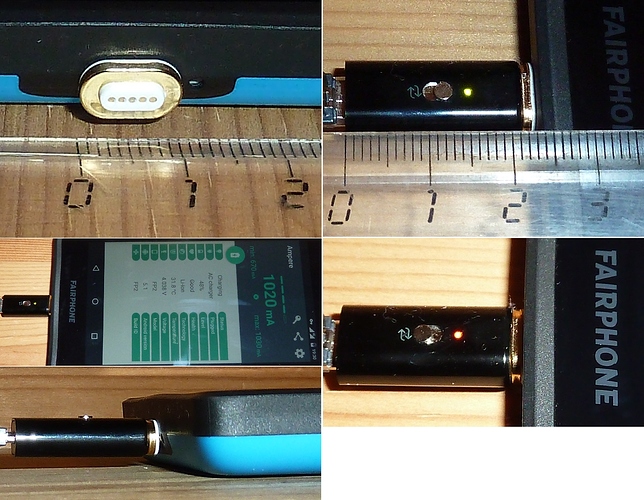 Generally it works and also it is quite slim in format. It should fit just as good for FP1 as it does for FP2 leaving enough space for the headphone jack.
It snaps on easily and works in both directions.
Although both parts are magnetic, I think the magnets are a bit to weak which makes it necessary not to move the phone when attached or the cable will loosen/fall off interrupting charging or more severe interrupting data transfer.
Synching works fine if the slide-switch is positioned correctly.
There is a difference in charge current/speed between the two switch positions.
One for synching the other for fast charge.
But nevertheless if in fast charge position you still loose a bit of current through the adapter itself compared to connecting directly without µconnect.
Maybe the pins can´t handle more current or the cause is the internal design.
From about 1350mAH charging current without adapter I´m loosing about 300mAH with it leaving some about 1050mAH to charge. Actually it is only a small adapter being attached no entire cable.
I think if it comes to size there is not much choice. But I do believe some others are having stronger magnets and a more reliable hold.
Considering current it would be interesting to have a comparison with other types.
µconnect was about 16$ for backers and is now after about 20$.
I guess in this prize range there is even more selection.
Around christmas I also ordered the cable of "GOOBAY" at the electronics dealer Reichelt. Order No. is GOOBAY 40912 - 8,95€.
I think it is even better than the one I had first and it does not have any switch for synching and fast charging, it just does both without loss of current through the circuitry. It is about 1,2 meters long and the connector is directly attached to the usb cable. The cable is coated with textile and very flexible. The hold of the magnet is slightly better than with µconnect as the plug is a bit shorter, as it is no generic µusb-B adaptor but directly fixed to the cable.
Both designs are quite similar, so I wonder who had the idea first and who done a "benchmark" and build his own version. Even the magnetic plugs match and can be exchanged. There is no difference in operation. I now prefer the Goobay version as you don´t need switching and the hold is slightly better. One drawback there seems to be. But I guess this relies to all magnetic connectors.
The maximum current the contacting pins can take. Goobay states


Assumable most devices draw more than 1A continuously (FP2 ~1,4A). So it may be a matter of time until the pins are spent and the entire cable turns useless.
The super-cheap China-magnetic-usb-cables arrived a few weeks back and I'm very happy to report that they are awesome - charging and data transfer are both working fine. If the link is not working anymore, look around ebay a little, I found them for 2.89€ (I just ordered another 5). Just be careful to order the same kind (there are plenty others around - some with larger adapters).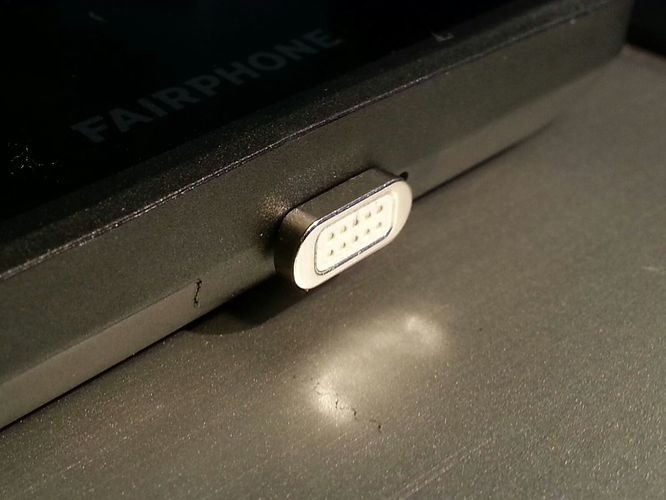 As you can see, you can snap the according USB cable on both ways. No more three-turns-til-you're-connected

A simple, yet far more environmentally friendly, imo, idea struck me and I was surprised that something like this actually already exists: A magnetic MicroUSB adapter!
https://images-na.ssl-images-amazon.com/images/I/713nFmgvsVL._SL1500_.jpg
The advantage would be that you could use any microUSB cable and that, if the cable breaks, you would be able to continue to use the magnetic microUSB adapter with a different cable.
Interesting. Based on the reviews at Amazon I just ordered the esorio adapter, I'll check what using this means for the compass and for the microphone right next to the micro USB socket.
So regarding that esorio Micro USB adapter …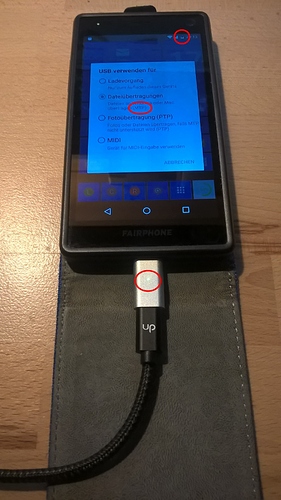 Judging from the 2 rows of contacts on the part that goes into the phone (the adapter part has only 1 row) I somehow expected it to connect no matter of facing up or down … that isn't the case (at least for me).
It only works if the LED faces up (see picture).
But then it charges the battery (see picture).
While doing MTP (see picture).
So basically it works as if I had plugged in the cable directly. Nice

.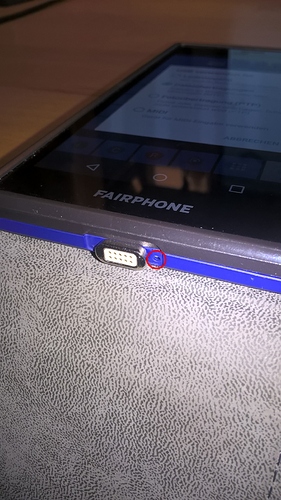 It leaves the bottom microphone free when not connected (see picture) and even barely free when connected to the adapter part (no picture, it's a magnetic connection, you don't take calls with a magnetic connection, what do you expect will happen

?).
And I have not seen any impact on the compass, the compass still works as before. Nice, too

.
And my flip case still closes effortlessly, it has enough room for the extra part.
So … PARTY TIME, EXCELLENT! We'll see how long it lasts

…
That's really weird. I also expected it to work this way… Thanks for testing and sharing the results!
Yeah, in fact facing down my Windows 10 saw a USB device, but couldn't initialize it in any meaningful way, and the phone didn't charge the battery that way either. It just looks like it should work that way, only it doesn't. "Designed in Germany", "Assembled in P.R.C." … whoever got this wrong: Bad country! Baaad country!
Since I'm a lazy bum I ordered more of these, so I don't need to carry the adapter around in my flat to use it with several cables (and I now need one for my backup phone, too) … let's have a look whether that facing down thing is a general "problem" or a monday adapter …
There are several different available for µUSB, has someone btw. stumbled over a decent type for USB-C?
No matter if a simple generic adaptor or a fixed magnetic cable.
The ones I passed by so far are simply too bulky in size and hence to this not very attractive, specifically when having a protection or flip cover. I want to give one away as a gift, but…
Quite common these days (considering manufacturing only). Shenzhen seems to be the central place where most manufacturing is going on similar to Silicon Valley for computer/IT business. Also speaks for Fairphone and many other products I have received the last months.
Update regarding the adapter facing down … I received 2 more adapters and they show the same behaviour, so they seem to be designed that way.
Strange, but apart from that they work great until now
.
This topic was automatically closed 182 days after the last reply. New replies are no longer allowed.
are there any current recommendations regarding magnetic USB cable for charging and data transfer with FP1? Links are highly appreciated

I have moved your post here. Please read the other posts above.
I bought 4 TOPK cables on sale during Black Friday: 2 microUSB, 2 USB-C, and an additional lightning connector.
I also bought from Indiegogo some very small keychain cables which has microUSB, USB-C, and lightning in one, and fits on a keychain. I expect these to be terrible for socket probs, but useful to have with you (provided your keychain stays dry).
I'm gonna gift them around at Christmas, so I'll be able to tell if they're any good (or not) afterwards. Either way I can't return them anymore anyway.