Another issue with the CSS, the solved icon is not placed correctly. On a default Discourse instance this is positioned correctly.

There were so many issues for me with the "Fairphone-new-2017" theme of the forum that I've anyway changed on my FP2 browser to "Fairphone original" long ago. Using this theme it looks as expected:


IT now confirmed Volker's conclusion

They will discuss internally how to move forward, the (various issues with the) 2017 CSS will not be fixed though. I for my part will give "Fairphone original" a try when I feel like it. BTW, anyone know which is the default for new forum signups?
I got the 2017 theme after signing up, which doesn't look compatible with Discourse at the moment.
When I try to pin a topic globally, I can set a date, but don't get access to the time (I'm shown the grey "no drivethrough" road sign where the cursor is supposed to be). Is that for others, too?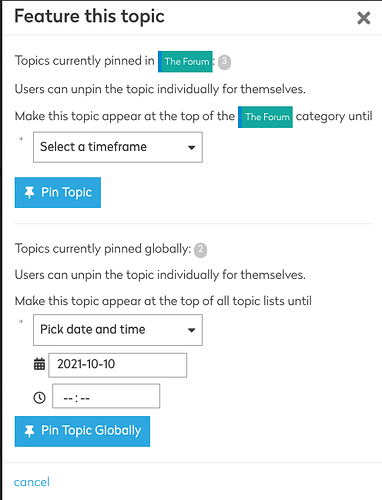 Yes.
EDIT: But it doesn't happen in "safe-mode" (https://forum.fairphone.com/safe-mode) . So it seems to be related to our forum environment…
Thank you for confirming.

Frankly, I find this such a minor "issue" I won't open a forum admin support ticket, not seeing much need to bother the guys with this.
And if you need to pin a topic until a defined hour you still can temporarily change to safe-mode and do it there.

Since the update I have a problem with quoting (lightning browser on a FP2).
When I select a text the quoting option appears but the text is only marked very short time. On the second attempt the text can be marked but only one word appears in the quote!
Can anyone confirm this?
yes I had issues the last few days as well FP2 with Ecosia Browser…
Confirmed when using Firefox 93.1.0 on Lineage OS 18.1 (Android 11), not confirmed in Firefox Desktop 93.0 (Windows 8.1)…
Yes, same here. On my desktop (Linux Mint with Firefox 93) there's no problem. It seems to affect mobile devices only.
Confirmed on latest Fennec, latest Bromite, with 2017 theme and original theme, and in safe mode.
Didn't find any similar topic on meta, should I report and open a topic down there?
Yes, same here on 3 browsers.
Did anyone try it out on a FP3?
 
Yes, I had also search without success…
Yes, please!
Shall I open a ticket with FP forum admins?
That's what I get on the FP3 (/e/OS default browser). Read: confirmed.
I've raised a ticket now.
The Quoting issue seems to be triggered by the newly introduced Fast Edit feature:
I'll take a closer look at it today.
Disabling the Fast Edit option in the Settings doesn't solve the Quoting issue so the only options are:
Upgrade to beta7 once it's released (this means you'll have to endure the bug for a few more weeks)
Upgrade to the current tests-passed version asap (this means I can plan scheduled maintenance for this week but installing the intermediate version might introduce new bugs)
I'll leave it up to the moderators to choose between option 1 and 2.
Quoting seems to work for the one formerly marked word on the first attempt, though.
So, until the bug is fixed a workaround when on mobile would be to generate the quote with one word, select the desired text again, copy it to clipboard and paste it between the quote tags in the post?
Enabling desktop view before quoting doesn't get rid of the one word quote bug for me, just tried (Fennec F-Droid).
Any other workarounds for mobile?