A German group started a petition:
In Dutch, there is an article in De Standaard (Belgian newspaper) about the issue, it even mentions FP, but rather as an "initiative without much impact on the market" and "even Fairphone can't give 100% guarantee".

(I hope the link works, the article is behind the payment wall. If it doesn't work, just let me know and I'll copy/paste the whole article)
You get an overlay with a message:
U kunt dit dS Plus-artikel gratis lezen omdat het gedeeld werd door een abonnee van De Standaard: Johan Daniëls
Vul uw e-mailadres in om gratis verder te lezen.
I have put it in Google Translate:
You can read this article dS Plus free because it was shared by a subscriber of De Standaard: Johan Daniel
Enter your email address to read free of charge on.
Use http://10minutemail.com/10MinuteMail/index.html to get an e-mail address free of charge. Mine is j2747420 [at] trbvm.com . They actually send an e-mail, but do not require to click a link in the e-mail to read the article. Now I can read the article, but do not understand it.
New articles on the topic of Cobalt and Child labour have appeared on Futurezone and Newsweek:
"Millions of people enjoy the benefits of new technologies but rarely ask how they are made."

"Jeder Konzern kann menschrechtsbewusster einkaufen, wenn er nur will"

http://futurezone.at/digital-life/fairphone-kinderarbeit-nur-ein-teil-des-problems/176.017.894
In a more satirical way, "De Ideale Wereld" (the ideal world, a tv program in belgium), launched a small game about the issue:

Believe me, it's worth playing. Just not a long time…
Translation of the instructions:
"Just take it" There is nobody who will see it anyway
Use the arrows to let the Congolese child mine as much cobalt as possible for technology giants.
Dodge the ethical controls by their CEO's. It's not hard: they are slow and they don't watch anyway
KnowtheChain recently published a Transparency Benchmarking Report with 20 pilot companies from the textiles, food and ICT sectors. The ICT companies included the following:
• Apple, Inc.
• Cisco Systems, Inc.
• Intel Corporation
• Microsoft Corporation
• QUALCOMM Incorporated
• Samsung Electronics Co. Ltd.
• Taiwan Semiconductor Manufacturing Co. Ltd.
Unfortunately most of the report is anonymized (the ratings are according to Company A through Company T), but the text includes a few more specific references and the report nevertheless gives an overall feeling for the criteria being used and the fact that the electronics industry is still far behind the other two sectors (which also aren't exactly known for having wonderful supply chains either…)
3 posts were merged into an existing topic:

FP2 - Reviews/Previews of the phone
Nach diesem Handyrohstoff buddeln Kinder metertief auf welt.de mit Erwähnung von Fairphone.
This is a project I'm watching for a while now. I haven't see it mentioned here before, so I just post a few links, because they send me an update mail a few days ago. I hope it fits in here.
I think it is important to keep things like open citizen science in mind while designing things. A smartphone can do so much if allowed. Have a look around. This is about sensors a smartphone can pull and transmit data from. While it's too expensive and complicated to keep a sim card in each device … a "walk by downloading & transmission" can be quite efficient.
http://blog.safecast.org/2016/01/bgeigie-bluetooth/
This is how a fair mine looks like.

So sieht eine faire Mine aus.
I got a link to this article today via the Good Electronics newsletter. It is about the use of toxic chemicals in electronics, but mentions modular smartphones (with a picture of the FP2) as part of a solution since they generate less waste. The article also links to this comparison between the FP2, the PuzzlePhone and Project Ara.
Not really a link or article, but FP was just mentioned as a good example of repairability and involving community by someone from DR Growth of the European Commission at a conference on Circular Economy!
I just don't seem to be able to upload the picture I took on the mobile forum…


Edit: from my computer, uploading does work better!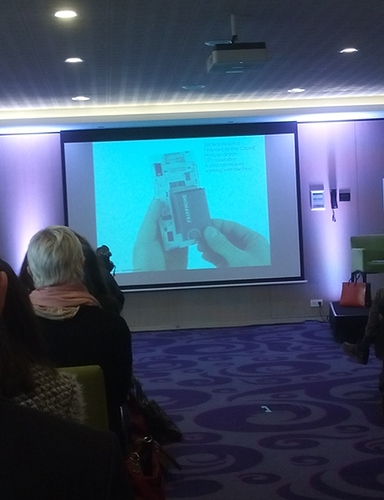 Hi guys,
I found an interesting article about the development for different OSs for the FP2. The article is in german but the main message is: "They develop in the Moment three different OSs" --> Fairphone OS, Sailfish OS and Firefox OS. The interviewer talks with Fairphone at the MWC 2016. In the next weeks the will provide an FairphoneOS without Google and with root access. They show this OS already at the MWC 2016. They also show a prototype with Sailfish OS at the MWC but the didn't tell a concrete release date.
damn. too late. i came here to post the heise article that i just found. way to go!
Hi,
Sorry it's an old link, but this is why I found you :
Here is an extract of what I attended in France, and seems to be a french adaptation of it :
Corporate surveillance & subtle forms of influence
Some texts for the paranoid Google friends among us. No need to read The Circle
Secrets of Surveillance Capitalism, by Shoshana Zuboff
The new mind control, by Robert Epstein