They call themselves "The world's first ecologically sustainable computers" (all-in-one computer, laptop and mice)
http://www.iameco.com/
This is so difficult to comment on. Kinda like comparing Fairphone with a non-fair phone.
50 EUR for a mouse with 2 buttons. 80 EUR for a membrane keyboard (with ugly Windows key). I really like the wood though. In like 2003 I saw an Italian craftsman who made a full laptop housing, custom, for any current laptop. The price though… 2000 EUR or so. That's the complete case though; not half of it like these laptops. Plus, the laptop they show on the website here has VGA and seems to run Windows 8.
With mice, I don't need such for a laptop (Apple Trackpad FTW, else trackpoint). There is a mouse by Razer which can be converted from a normal mouse to a Naga (12 button) or a Hex (6 button). So you don't need a separate mouse if you play a MOBA or MMO. Razer mice are not known to be durable though, and I already got a normal and MMO mouse as it is (plus I don't have time for MMOs anymore).
Keyboard-wise, a mechanical keyboard can be made from durable plastic. Mechanical keyboards last longer than membrane, and keys can be replaced. Sure, they can be loud, but that is also a matter of preference (something like Cherry MX Red or Cherry MX Brown with o-rings should not be loud, and it is also a matter of using the keys differently).
Finally, the website seems out of date? As at the Archive the top entry is November 2015.
Looking great.
But is that preject still up to date?
The "Archives"-section ends 2015 and the "news" are from 2013!
The shop does not offer the laptop and the specifications of the desktop computer, featuring Windows 8 and a dual core Intel ATOM D525 CPU from 2010 seem a bit outdated.
It would be a pity if such a good concept would go waste.
But unfortunately this is the first time I heard of them; so they might have not been successful enough at marketing?
Edit:
Latest tweet from September 2017.
Latest facebook post from December 2018, announcing the starting of selling USB keyboards and mice. That's what the online shop mostly features; in various designs.
Maybe Fairphone could team up with them, as the concept they had for their computers was really great (including repairability of course).
"Making a one-hour call a day produces up to 1250 kg of CO2 per year—the equivalent of flying from New York to London."
Hi all,
I came across this on Twitter, I think it was retweeted by Mozilla. The focus is on the Amazon Echo but it could apply to any consumer electronics. The poster is great, a visual yet detailed representation of the impacts of a commodity electronic item.
Fairphone has made a start but there is a huge industry to change - let's keep at it!
Cheers

Though they take the easy road, as most of the big companies.
Trying to work it out in Congo, as Fairphone does, would really be a statement.
But possibly, that is not yet feasible at this moment, given the size of this contract.
It's the approach that counts here. Fairphone has started completely as a new comer and (simply) did it. And they were far from being that wealthy than BMW.
So again it doesn't look like BMW wants to do better here.
I agree with the criticism but direct action is better than passive action by boycott, but it is also better than nothing.
State aid: Commission approves €3.2 billion public support by seven Member States for a pan-European research and innovation project in all segments of the battery value chain
More specifically, the project participants and their partners will focus their work on four areas:

(1) Raw and advanced materials : The project aims to develop sustainable innovative processes allowing extraction, concentration, refining and purification of ores to generate high-purity raw materials. With respect to advanced materials (such as cathodes, anodes and electrolytes), the project aims to enhance existing materials or create new ones, to be used in innovative battery cells.

(2) Cells and modules : The project aims todevelop [sic] innovative cells and modules designed to meet the safety, and performance required for both automotive and non-automotive applications (e.g. stationary energy storage, power tools, etc.).

(3) Battery systems : The project aims to develop innovative battery systems including battery management software and algorithms as well as innovative test methods.

(4) Repurposing, recycling and refining : The project aims to design safe and innovative processes for collection, dismantling, repurposing, recycling and refining of recycled materials.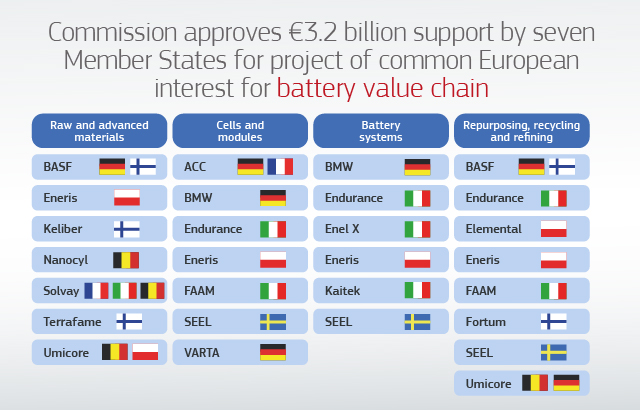 Does the Fairphone have cobalt in the battery from Congolese child mines? I sincerely hope not. I think this is appalling and I hope this lawsuit is successful. This is a broken system we have to care about fixing. Its so sad.
Fighting this was part of the start of the Fairphone project:
https://www.fairphone.com/en/about/about-us/?ref=footer
2010
Started as an awareness campaign about conflict minerals
While conflict-free does not equal fairtrade or no child labor, the working-conditions and payment for miners was a relevant point from the beginning.
An article about ethical laptops

Found in this article (mostly) about the Fairphone

Even the celebrated iameco is among the worst offenders for supply chain management, which incorporates workers' rights across the long networks that assemble digital products.
We really need a fair laptop. Or go for refurbished, e.g. https://www.refurbed.at/c/laptops/ in



.