We heard about them a while ago, some days ago they were mentioned by a blog post, and since no one here really knew how to recognize them, here you are: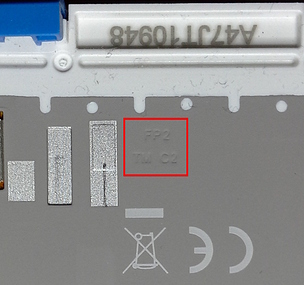 (left: old, right: new display)
Differences I am aware:
The gray of the back is slightly lighter
The writing is a lot sharper
The above marking "C2"
Not affected by this problem (Yay!)
No bright spots so far
You'll need a recent version of FPOS/FPOOS/Lineage/Ubuntu/TWRP. Otherwise it will only show a blue screen. (Unfortunately, I don't know the exact minimal version for each OS)
I also had a problem with the new display (unresponsive, flickering, …), but I was able to fix that and will create a separate thread about this tomorrow.