How can I enable split-screen multitasking on my FP4?
It comes with Android 10 by default. So maybe your question is how to split 2 apps on the screen?
Open the app selector menu and then press an app icon. There is the option.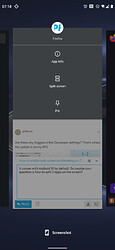 Thank you, @UPPERCASE ! That's one of the many many things that are different on my FP2 with LineageOS 18.1 / Android 11.
This topic was automatically closed 90 days after the last reply. New replies are no longer allowed.