Once again my worries about low turnout were fortunately proven wrong. Seven Fairphoners were joined by a returning Fairphone(r's) friend without a Fairphone and once again a longtime smartphone holdout (who had learned about the meeting through the newspaper, see above) considering the FP2 for her first smartphone ever. She knew no fear presenting her trusty old Siemens to us and seemed to look forward to future Aachen Fairphoners meetings. Meanwhile, the Fairphone Angel from Düsseldorf knew no fear either helping the Fairphone(r's) friend getting back into his password-messed up trusty old Samsung.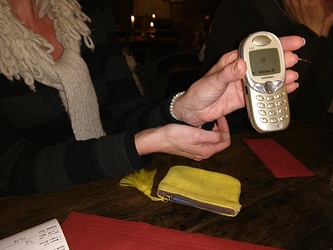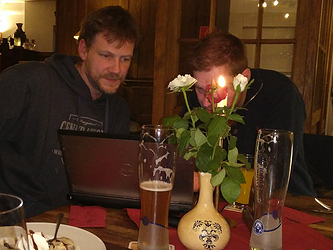 All in all once again a very lively group that included a remarkable high share of first-smartphone Fairphoners, still a healthy mix of four FP2s (plus the Community Fairphone 2), three FP1s and the aforementioned Siemens & Samsung. The traditional CFP2 deconstruction ritual was once again performed to the interested eyes of a potential future FP2 owner, and the same device also donated it's very vital organ, err-, bottom module (no worries @Douwe, just for a few minutes …

) for the sake of verifying the malfunctioning of another participant's used potential future FP2's bottom module.
Another nice Aachen Fairphoners get-together saw the final participants close the event after well more than three hours.
P.S.: Thanks to @Ingo @Stefan @Douwe @monica.c @fiorella and/or whoever kept advertising the meeting on Twitter and Facebook.