@SkewedZeppelin
iodé has updated iodé Browser to 99.1.1 today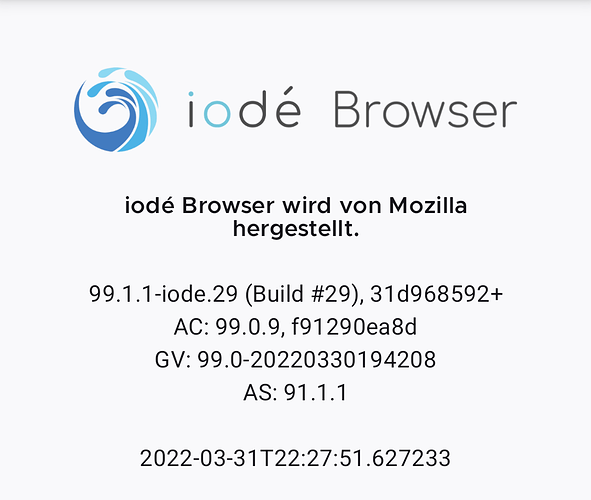 @Iakhou
FYI
For everyone : all OTAs are now uploaded, except mi9 which is not finished yet.
So, you should find it now via updater.
Update 05.04.2022
iodé will release a new version for FP4 very soon with (a lot of) changes and security improvements
signed avb_custom_key instead of built-in googles test-key to increase security
it will not be available via OTA updater. Must be installed from scratch, unlocked bootloader and manual installation of avb key
means also, a factory reset is necessary.
Next version will then be available via OTA.
after long discussion and research, they took the decission to go that way. it's nearly a complete change-over
But I don't see this as a big annoyance, since we are still in the beta phase. That can and may happen.
I thought it was already the first stable version out:
How can I identify which version is still beta and which is already stable?

Depends in the updater you are using
For betas a special updater is needed
Does it mean I can flash fastboot flash avb_custom_key after flashing the recovery and can flash, after factory reset, the iodéOS rom?
correct.
this guides you:
remove SIM card and check that akku has at least 50%
eneable USB Debugging and "Allow unlock OEM" in Developer Options
check if adb is working and device is recognized correctly => adb devices => ACK USB debugging on phone-screen. check box: always trust
adb reboot bootloader
check if fastboot is working and device is recognized correctly => fastboot devices
fastboot flashing unlock => Acknowledge unlocking on phone (VOLUME UP + POWER) Device is doing a factory reset and reboots to system
start again in bootloader => switch phone off. pull out USB cable. press Volume (-) and put in USB cable in. Keep Volume (-) pressed. Phone should start in bootloader. (¹)
check if fastboot is working and device is recognized correctly => fastboot devices
fastboot flash recovery_a iode-2.4-20220405-FP4-recovery.img
fastboot flash recovery_b iode-2.4-20220405-FP4-recovery.img
fastboot erase avb_custom_key
fastboot flash avb_custom_key avb_custom_key-FP4.bin
press VOLUME UP until see message reboot in recovery. Then POWER
From recovery => Factory reset => Format Data/factory reset
From recovery => Apply update => Apply from ADB => adb sideload iode-2.4-20220405-FP4.zip
back to bootloader mode. From recovery => Advanced => reboot to bootloader
check if bootloader unlock ability is possible => fastboot flashing get_unlock_ability → (bootloader) get_unlock_ability: 1 ==> if you get 1 then follow with step 17) otherwise do not lock bootloader (can brick your phone) and follow with step 18)
fastboot flashing lock
reboot system. First should see a Lineage screen doing a wipe. After a second (automatic) boot you should see the yellow boot screen and then the iode bootscreen.
start setup wizard
(¹) From FP Support Page:
Alternatively, you can disconnect the USB cable, turn off your Fairphone, then connect the cable and hold the volume down button. After a few seconds, you'll see the fastboot mode
Recovery:
https://github.com/iodeOS/ota/releases/download/v2-FP4/iode-2.4-20220405-FP4-recovery.img
Image:
https://github.com/iodeOS/ota/releases/download/v2-FP4/iode-2.4-20220405-FP4.zip
avb_custom_key:
https://github.com/iodeOS/ota/releases/download/v2-FP4/avb_custom_key-FP4.bin
verified boot with user-settable avb key:
Many thanks for the detailed manual!

I'll try when I got my device.
In case if something went wrong, how can I get back to the official FP4 rom?
honest? Not at all!
Coming from all custom ROMs I have only heard of problems.
from iode back did not work for all.
The problem lies in the signing keys and that FP uses test keys. IMHO
If this is too risky for you, then better don't do it.
IodéOS looks very good and is very fast on my A5. I would love to keep it. But a last questions.
Can I flash other custom rom's with this signed key?
Will I get updates for iodéOS for the next 5 years?
Many many thanks
1
NO! Don't try it. Bricks your phone
2
Am I God ?
I am sorry, I don't get it. Is 2.4 now out in the open or still beta? I am on 2.3 and don't know what to do now? Thanks
I did it that way and would suggest to do it that way, IF your bootloader is locked
Then your ROM base on user-settable avb key and all upcoming versions will base on that and OTA will work.
If your bootloader is unlocked you can wait a little bit more for next OTAs with fixed keys…
The Devs have made many changes at the moment because of the general, not only iode sepcific, extreme problems of the brick when the bootloader is locked again
There is a lot of action in it and it can change daily…
You can definitely go back to the original OS. Here is the manual:
I only recommend not closing the bootloader after reinstalling FairphoneOS as this could result in a bricked device (It can be fixed only by Fairphone for approx. 30€)
But only with an unlocked bootloader.
At least this is not fully tested after version 20220405 is installed (changed to user-settable avb key)
Yes, that's what I said: Dont' lock the bootloader until this issue is resolved.
Then you should be fine
Also that should be just a temporary issue, I'm sure FP will work on this to get this fixed. So there is and will be a way back to FPOS
The flag that controls the ability to unlock the bootloader is persistent across reboots and factory data resets, but not across flashes. Therefore it should be safe, if you want to relock the bootloader, to flash FPOS, request a new unlock code and enter it, and only then lock the device.
The device will perform a factory data reset, but not touch the flag. If your device breaks now, you should be able to unlock the bootloader again.
Never mind, you cannot set the flag if the device is already unlocked…
If the above description is correct you would not be able to use/enter the new code, or?