Gloria in excelsis Deo!
After having a hard time getting the FP3 bootloader unlocked while using /e/, I have finally managed to get FP3 OS based on android 10 on my dataphone.
While the initial setup is nice and I am very satisfied with how I was guided through the setup and being able to ignore some of the prompts, the setup process will not leave me alone.
I get notifcation to complete the setup. But I do not want to import data, set a screenlock, or do anything else.
I have tried to watch some youtubevideo about this issue, but it is not resolved.
Please help me to turn off this notification
Here follows 3 screenshots:
The first is the annoying notification.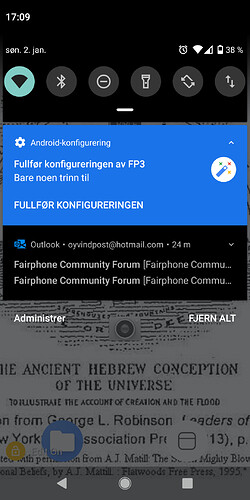 The second is the menu where I try to access the notification control center.

And thirdly the screen where I cannot turn off the notification.

Please help me to turn this off.
Yours sincerely in Christ our Redeemer Øyvind, Norway.