My FP2 (latest Firmware 1.5.1) reports a wrong pixel density to the MyPhoneExplorer Software: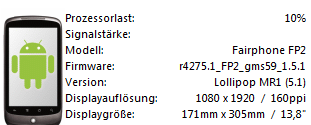 Resoulution: 1080 x 1920 / 160ppi
Display Size: 13,8 inch
The pixel density mentioned in the technical sheet is 446 ppi. Therefore the calculated display size is 13,8 inch instead of 5 inch.
I suppose that's the reason for wrong font sizes (like in Firefox font size setting) and other misbehavior.
Can anybody confirm this?