As promised, here comes the photo: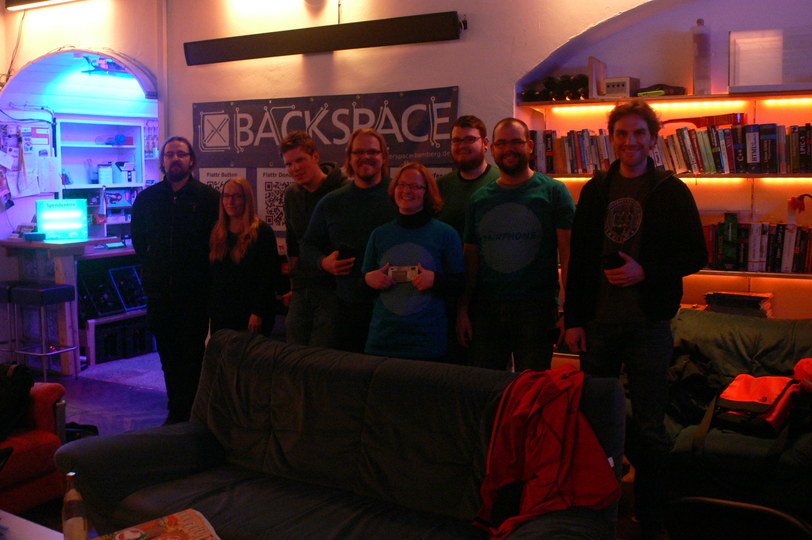 We took it a little late, so some people had already gone but you get the nice atmosphere of the location and the meet-up anyway. Left to right: Ött, Linda, @jom, @Toking, @merci, Mathias (1 oder 2 t?), @BeMiGro and @Moritz. Peter behind the camera, and Florian already on his way home who showed us his shiftphone he got a week ago. @marc_bamberg just did a guided backspace tour with Ptflea, so they were in another room at the time of taking the picture, just like Flo, another backspace member.
People came from different parts of Franken: Fürth, Coburg, Ansbach, Bayreuth and of course Bamberg.
We had nice discussions on different topics and the non-FP owners appreciated to be able to get a look at and hold FPs in their hands as well. Some even told us that they will seriously consider buying an FP2 once they'll need a (new) smartphone.
Thanks again to the backspace for accommodating us, was really great and special thanks to Ptflea who also gave us a nice tour of the backspace. I think there was mutual interest.

Conclusion: To be repeated!
@StephanNo: Don't worry, hopefully you can make it next time. Btw, we decided to create a mailing list. Ask @Toking if you want to be on it.
@tphysm: I asked Florian about the shiftphone, but concerning transparency, he does not know more than you can get from the website either. For him it is kind of a leap of faith (Vertrauensvorschuss) he accords them for the moment because their company is even younger than Fairphone. But he also hopes that this will improve.
Edit: Corrected the reason of absence on the photo of @marc_bamberg

And of course, I forgot another thing: Big thanks to @Douwe for sending us the T-shirts and stuff, highly appreciated!