For what its worth just received a DHL parcel in UK from Slovenia (value over £135) upon which paid their 22% local VAT rate and it incurred no further charges upon delivery.
Yes I read somewhere Slovenia makes changes at source for all goods

Please can I add my own experience. I purchased a Fairphone 3 on the 5th January and received the phone on the 3rd February. During that time media reports came out about additional VAT being levied in the UK. The new rules say that VAT is chargeable on goods over the value of £135 as stated in earlier posts. The exception is whether a European business is registered for VAT in the UK. I was fully expecting to have to pay the extra and hopefully claim the VAT that I had paid to Fairphone back. VAT is only payable in the intended area of use.
When the phone arrived I was not asked for any other payment which leaves me baffled by the rules. Maybe Fairphone are registered in the UK.
Hello and welcome to the forum.
Of course you can add your experience.
In fact, it is very much appreciated and welcome, as that's the way this community works.


Hopefully you are right and not just lucky

and ther will be no extra charges for FP customers.
---
Otherwise, there is always the possibilty to buy from a UK reseller.
As listed by Fairphone:
Some info on VAT requirements ~ for the UK purchaser
An updated article
My FF 3+ just arrived to my UK address today (ordered 4 Jan). Like Terry_Smith there were no additional charges, much to my amazement after all the horror stories of post-Brexit deliveries from the EU. GB VAT was included by FF when I placed my order.
Hi Fairphone & community,
Not sure why you deleted my last account and comments seemed a bit rude. I was able to make another with the same username and I was not able to make one with my original email address so you clearly blacklisted it…which is odd/draconian… I'm a prospective buyer and at the moment nobody is able to ship to the UK using your shop on the Fairphone website…
I've tried multiple browsers ( Firefox / Safari / Chrome ) as have your Zensdesk support staff. I've ensured the shop is set to the UK at the top and I have changed it to every country possible to see if the UK pops up… It does not… ( See screenshots below)
I'd rather purchase through you then large Corp like BT etc…
Thank you,
Gert
Hi @Gert123
First this is not an official Faiurphone account so you cannot 'buy through us'
When you say you set up an account this would seem to apply to Fairphone shop which uses Zendesk, that is not the same as an account on this user group and although Fairphone host it they have no say in running it and only look in now and then.
I doubt an email address was blacklisted on either account but once an email has been used with a user name you cannot use the same email address to set up a new account, it would create a security flaw if multiple accounts used the same email. If an account is removed completely then it would be possible to use a previously used email, but if an account is just disabled then that email is still current.
Updated
A couple of advantages of buying in the UK is a) It getr's the phone better known to the locals and helps support b) if you have a problem with the phone you can deal with a local shop rather than just online, which of late is very tardy.
Try this URL
My last account was removed unfortunately - which was merely informative to the thread. I could not login nor was I was unable to use my original email address and I could not reset/receive any password reset requests. Then I changed it to alternative email address and the original username Gert123 became available…thus indicating that the entire user profile was removed…Hence the draconian comment sir

I think they have just fixed the issue - they have also provided a specific link just for the British store as the normal website does not work atm…
Here's the specific British link - Discover Fairphone 3, Fairphone 3+ | Sustainable smartphones
Re your photo above yes you can set your language and location to the UK but the shipping address on checkout does not currently hold the UK.
I would buy in the UK but I can see anywhere that BT or Maplin offer the two year warranty Fairphone does. And for all OS firmware/hardware issues BT or Maplin are always going to deffer to Fairphone right? Interested in your thoughts on this one.
Have a look with this company, this is who I bought my FP3 from:
On my attempts, I can have the phone shipped to UK via Fairphone too. The currency also defaults to £. Perhaps this is a clue to your problems.
Phone Co-op also appears to be cheaper than via Fairphone itself.
Looks like you still have Netherlands EN selected.
By the way the link you provided is the same as the one I provided but direct. I'm using Firefox but I don't think the browser is an issue, just your initial setting is still on Netherlands.
Anyway when you go to checkout you can enter your address.
When doing a screen shot, which is page and language related, please show the whole page including URL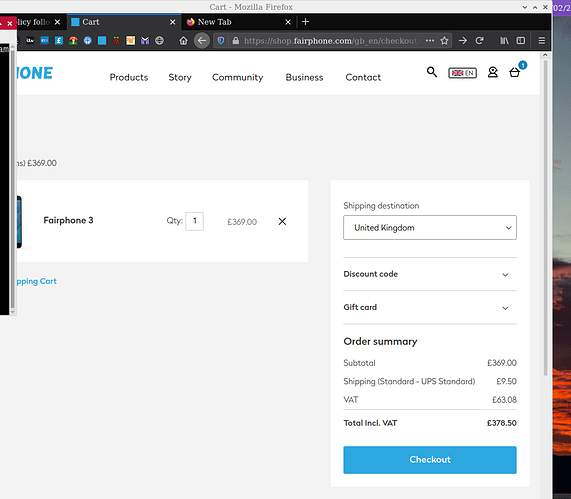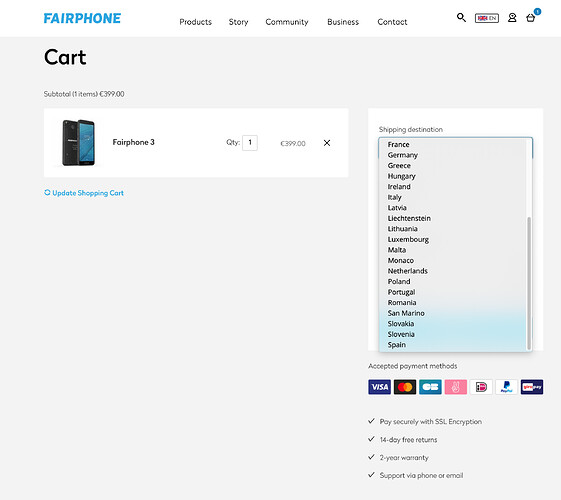 The Image in the previous post was just to show you the cart and the flag - The issue still persists for folks trying to select UK as a shipping address, please see the image in this post. They have provided a work around which is the fair-phone shop address I provided in a previous post.
Ta
It is strange indeed.
I just checked and couldn't select UK as well.
---
But there seems to be another possibility:
When you are logged in to the Fairphone shop change to the "Address-book"
-> There select the option "add new address"
And in that address field, you can enter a UK address.
On checkout it should at least be possible, to select that address, though I did not try, as I did not want to enter a fake UK address.

I was really trying to find out whether we are still going to be able to get fairphones now that the UK is not in Europe.
I was hoping that Fairphone would pick up my question from this forum and try to add something to the website. Is there a way to get this message to them?
Well, Fairphone does on their homepage expressly state a few times, that they will ship to the UK. Most prominent:
On that last page they expressly state, that they will ship to the UK without VAT, as it is outside the EU.
Therefore - to me - this question seems answered, even if the shop-page seems to have a bug; but they are already aware of that, if I got @Gert123 right.
Hi Bert,
You did indeed. They are now aware of the bug/issue illustrated above. There are now two workarounds in for this issue. One being the direct link the other suggested by BertG.

I don't know what you are doing differently but as you can see from my screen shot (post 16) I have United Kingdom as the selected Destination.
I've just tried again with no problem?
When you get to the Product page click on the [UK flag : EN ] and select Country… [The flag only indicates website user] and [EN the language}, you need then to select country by clicking on the [Flag EN].
Yex, it works on the initial stage.
But once you have placed something in the basket and proceed to checkout, the UK mysteriously does vanish from the list.

I recommend to routinely mention the browser used. I seem to remember there was an issue with Firefox with regard to exactly this.