Speaking of discountology … Wumms passed on by Fairphone.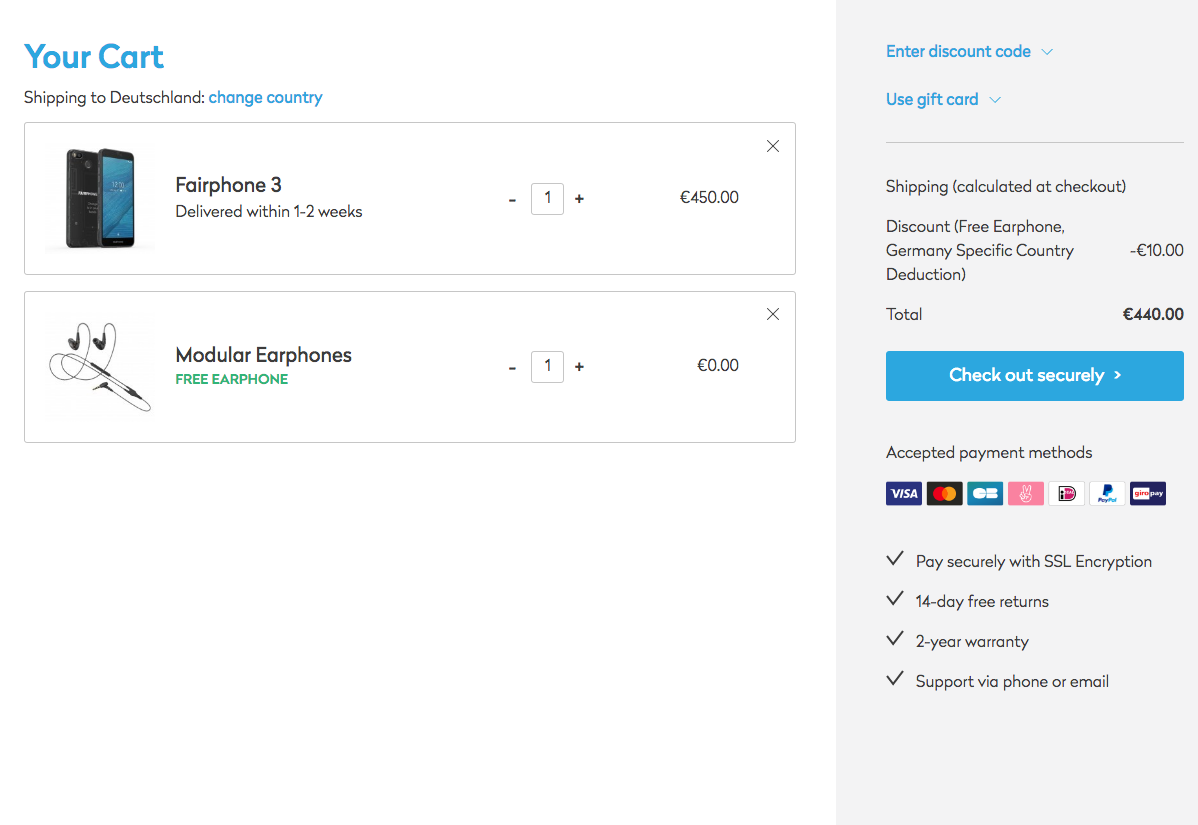 Explanation:
It's not Fairphone, still, since we are at discountology, here's another model regarding German VAT …
The german brand "Armedangels" (eco-fashion) doesn't change the prices.
Instead, they donate the money to organisations engaging for climate protection.

In July this organisation is "Client Earth"
Frankly, I could have lived with it if Fairphone had kept the tax difference to themselves. After all, they only dropped the country/VAT-specific pricing of the FP2 last year when they launched the FP3. Now they are singling out Germany for an exception … I guess the fear of us German penny-pinchers weighs heavily, sigh.
Does anyone know already about any promotions or discounts starting in August after the earphone promotion runs out?
I am thinking about buying a Fairphone and don't really need the earphones. So I am thinking of waiting just another week and seeing if maybe there is a summer special with - 20 € discount or something.
I know, most likely it's stupid. It is just my inner "saver's voice" of getting a better deal now than in a week if the current discount runs out and doesn't get replaced
So, does anyone have some inside news?
Any updates about new discount on the website?
@jones I have allowed myself to replace the small print in your original post by the current version.
---
I think it makes sense to remind everyone currently considering to buy something from Fairphone of existing promotions and their expiration. As far as I can see promotions 18.1, 18.2, 18.3 (yes, that one too, read the body of the text

) and 18.5 are still valid (see first post for details).
Point 18.5. seems of special significance to me right now for this reason:
The Fairphone 3+ comes without a bumper (I guess there's more than one reason for this, but I don't want to get off topic now), so some might consider to add a protective case and perhaps also a screen protector to their order of a Fairphone 3+. Promotion 18.5 gives you a (almost) 20 euro discount if you buy both of these accessories, but this promotion expires by this monday (31 August 2020). While you will only get a Fairphone 3+ after 14 September, you might want to secure the discount, but that's only possible within the next four days.
There's also Fairphone's ongoing recycling program that gives you cashback on old FP1s and FP2s, but it only expires at the end of September (at the earliest).
P.S.: Now this it definitely also the time for FP3 owners who bought and are happy with their new protective cases to give away or sell their bumpers if they are sure they'll never need them again!

Just noticing that Fairphone seems to have changed their mind on the lower German VAT rate. While some might get all upset about this now, I still think it's completely ok not to pass on the temparily lower tax rate.
On the website where you can buy the parts I read:
"Save €25 with the Camera Bundle
Get your voucher for Fairphone 3 Camera+ and Top+ Module when they are back in stock. Sign up for the notification above. T&Cs apply."
So sign up if you want the reduction.
The smallprint has not been updated yet, but there is a new package deal with dealers (not in the Fairphone shop itself). A protective case (green or black) and a screen protector (apparently the exact type can not be chosen) can be obtained as a free extra to any FP3 or FP3+ purchase with participating dealers. See details:
So, you have to g through a third party to get this offer? I'd really like to buy direct. Strange they don't participate in their own offer!!!
The offers are most often done a) because there will be a bulk commitment or b) offered by the reseller not actually Fairphone.
If you contact Fairphone they may make you an offer you can't refuse

This topic was automatically closed 182 days after the last reply. New replies are no longer allowed.
Apart from Fairphone's own May 2022 deal (Buy the FP3+ or FP4 at full price and get Fairphone's True Wireless Stereo earphones at no extra cost – for all details see Fairphone's legal smallprint) …
… there is also a retailer May 2022 "Longevity Pack" deal: Similar to the former Longevity Pack with the FP3 and FP3+ (then), there is now the same package for the FP4: Buy the FP4 at full price and get the Screen Protector (bluelight filter) and either a grey or a green Protective Soft Casee at no extra cost. For all details including participating dealers, have a look https://promotions.fairphone.com/
The extras in both deals are optional, i.e. you will not get them automatically, but must choose to do so – by including the earphones in the shopping process in the Fairphone Shop resp. by applying for the other accessories after your purchase with a retailer. See the links in the paragraphs above for details.
Here is a small addition. There is one entry missing from the list of dealers: