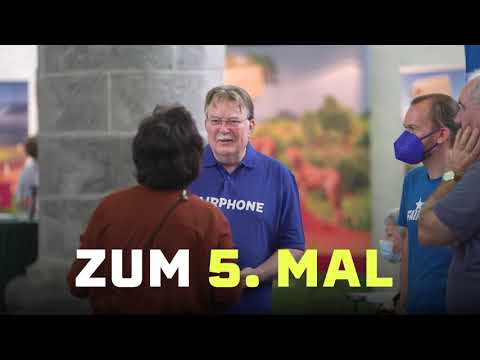 Die Fairphone Community Aachen ist auch dieses Jahr dabei – natürlich mit dem Fairphone 4 und auch mit den neuen Fairbuds XL Kopfhörern (kein Verkauf *) – bei der 5. Aachener Fairtrade-Messe am
Samstag, 19. August 2023 von 11:00 bis 19:00 Uhr in der
Aula Carolina, Pontstraße 7. 52062 Aachen
Eintritt frei
… und so sah's letztes Jahr aus.

The Fairphone Community Aachen – including the Fairphone 4 and the Fairbuds XL Headphones (no selling *) – will again join the 5th Aachen Fairtrade Fair on
Saturday, 19 August 2023 at 11-19 h at
Aula Carolina, Pontstr. 7, 52062 Aachen
Admission free
… and that's what it was like last year.
---
* Die anderen Stände verkaufen selbstverständlich / The other booths will sell