I probably just misunderstood what you meant by "it"

Hi,
I followed the upgrade doc to upgrade from pie (0.13) to 0.14 Q. Adb sideload with options wipe cache and wipe dalvik cache.
All went well. No big changes so far.
Not really sure of what I meant by "it" either

So just did the upgrade to android 10 (/e/ 0.14 Q) just by sideloading the zip file.
Everything works fine so far… in fact as @chrisse said : no big changes so far…
Well, looking at what changed it doesn't look "big" to me, too

UI changes across default applications.
MicroG version updated to v0.2.16.204713
Maps updated to v7.1.21.1.3613AA78.047032E6
OpenKeyChain updated to v5.5
security patches for January 2021
Misc LOS code updates
From what I understood, some Covid 19 apps stopped working as they were updated and the previous microG version was no longer compatible.
You'll find the major changes e.g. here (if you leave the information about UI changes out):
Hi,
I am experiencing issues since I upgraded to /e/ Q. Nothing new though: these are issues I had before but I got rid of since I installed /e/ pie from scratch. Now I am feeling like downgrading to check if it's still better on pie. But on the upgrade document, I have read:
Warning : Downgrading Smartphones already on Android Q or LineageOS 17.x to Pie or from Pie OS to Oreo or Nougat can cause instability or at worst brick some devices.
Any experiences or advice? I guess the safest way to do it would be to install from scratch again?
Maybe. It seems that sometimes problem are caused by doing major release upgrades without doing a factory reset (in a perfect world the upgrade should always work - but sometimes it seems that the world is not perfect…).
Anyway - I'd always recommend doing a backup before an upgrade - so you can always go back…
Don't know if it is android 10 issue, but so far I don't experience any problem with /e/ 0.14 Q after upgrade from Pie… I'll keep you in touch if it occurs on my phone.
@chrisse Do the downgrade worked and solved the problem (if have already did it…)?
I understand that Dark Mode is not implemented yet in individual apps (a known issue), but I just noticed there are some remaining issues with it in Settings, too: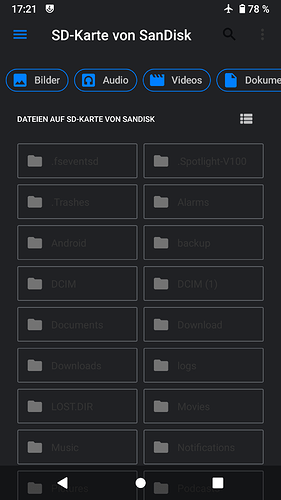 I just flashed 0.14 Q on my FP2, without wiping (I've made a backup though). It worked flawlessly! I didn't notice any problems yet. Thanks to the team!
But I couldn't find the gesture navigation. Anyone has it on a FP2?
None of the new gesture options is available in /e/ independent of the phone model.
Not tried yet. I will wait and see how it goes this week.
Do you also have problems with notifications related to the calendar (every time it syncs, I see a notification "event notifications"… )?
As it is impossible to turn off the notifications for Calendar on /e/, I disabled the app and installed Etar instead. I still got the notifications at first, but I could turn them off.
I also disabled bliss, as I use Open Launcher. Less is more?
OK, seems wise.
No display problem so far… and yes I have sometimes "event notifications" but it seems completely random to me. If I remember right, I also have these strange notifications events with Pie.
I keep the standards /e/ apps for now, I want to try the system as proposed and honestly I'm quite happy with it right now, even Bliss Launcher is stable and do the job for me.
I have read somewhere (I think it was @Ingo) that it appears every 6 minutes! It's not that disturbing, though. I just wondered if there was a way to make it stopped and found one, but I could live with the notifications.
I decided to do the same as you, but Bliss doesn't work for me as I use a Calendar widget. That's why I had to change the launcher. I still try to use the other system apps, but I see some limitations: not possible to disable notifications; not possible to backup sms in the message app even if it's a QKSMS fork (I installed QKSMS to do a backup).
OK, I see. I just try to disable "Synchronisation notice" (not sure about that translation??) in Dax5 to see of it does something…
@chrisse : I use "todo agenda" as widget which works well with Bliss.
I thought that the widgets can only be displayed in the widget panel (swipe right), is this right? It's good enough for many occasions, but I like mine on the "home" screen, so I can see it without checking it. Otherwise, I'm afraid I would forget stuff.
Yes, you're right… no widget on home screen in Bliss as far as I know… Sorry I thought that you were alright with the widget panel.