Searched but getting no infos
Is it possible to set the forum theme to dark?
No. There are two themes ("Fairphone original" and "Fairphone-new-2017") defined for this forum. Both are not dark themes.
OK. What i figured out for myself.
Thank you very much
That's not good…

Perhaps we could ask the admins to add one?
What do you think of this one, seems quite nice to me?
Yes, do it
Doesn't matter which, but any!
Thanks to all admins who will do it
As far as I remember, Forum tech admins were meaning to consider Forum themes next year. The Murena (Fairphone's partners in FAIRTEC) forum actually offers the option: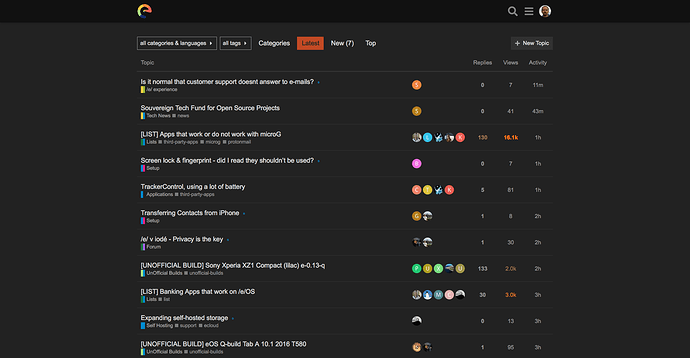 I briefly tried it myself a few days ago, but quickly switched back because I realized that it can be tricky for the eyes ("flickering" after a while) to have bright letters on dark backgrounds even when it looks cool at first sight. But eyeballs vary

I can't stand these dark mode themes either, I have to switch back to a lighter view shortly.
Big fan of dark themes here - though this isn't the specific solution the OP asks for, I use an extension for Firefox called Dark Mode and on Android I use Yuzu Browser which can be set to use "inverted rendering" as default. Both work quite well with most websites, including this forum.
Discourse has this feature builtin, no need to install custom themes. There is a default dark theme present. You can install this theme component to have it automatically switch based on the OS settings. Manually switching is also possible.
In case you want to see it in action, check out the forum below.
Please, can this be added!?
No solution for mobile devices
iodé and /e/ are using the same forum software and a dark theme.
Question to the admins:Is it hard or complicated to implement it or just a addon installation and activation in the forum software?
Got an answer Forum admins.
It's difficult to implement because of customized default theme.
Maybe next year on roadmap. Right now added as feature request.
OK for me
just keep in mind that the addon sadly slows down the website loading, especially in the default configuration.
This topic was automatically closed 182 days after the last reply. New replies are no longer allowed.
Dark Mode is now available.
See here for details.
This topic was automatically closed 180 days after the last reply. New replies are no longer allowed.