Sure thing!
Too bad we just have it back from Wien, we should have kept it there
Hey, there is an a event in my area about Free Software, Open Data and Networks:
http://www.agendadulibre.org/events/11903
It will be on Saturday, the 22nd of October.
I will have a booth with my local Libre User Group (La Guilde).
I think that this is a great opportunity to show the community FairPhone 2 for people to see and "play" with it.
(Even if it does not run Free Software, my own FP2 will be there to show how it is the same with Fairphone open !
)
@Stefan @Douwe @paulakreuzer Do you think that community FP2 could be transfered to south of France the week after the Urban mining event ?
Sure thing! Sounds like a great occasion!
Please PM me your name, address, email address and phone number and I'll make sure the package is forwarded.
Hello,
we are currently eyeing our next pub meeting in Aachen in the first half of November (I'm tending towards very early November), so I'd like to already put up my finger for the CFP2 right after France

Urs
Hey Urs!
How was the meetup? Did you take good care of the community phone?
Are you ready to have it be picked up and send home?
While I could not do my folks the favour of a world premiere slim cover, the CFP2 was a great help and perfect fit with all the curious new folks that suddenly turned up almost out of nowhere last wednesday. Thanks for arranging everything

You can mail me the labels, I take it that I will then call DHL to arrange a pick-up date of my choice? (I still need to write into the diary
)
Cool! Nice to hear
I'll send you the labels and then DHL will call you to discuss the pick-up date.
@urs_lesse has some beautiful handwriting!
Read his entry to the Community Fairphone Diary when it comes to your town.
Next towns planned:
The community Fairphone got his new jacket today!
Now we'll send it to @explit in Berlin for some fun testing.
Great! I'm really happy to get the community Fairphone. I and the guys from the Berlin Sailfish Community will iron out some Sailfish bugs as work on the deep testing of Fairphone Open.
Lets make FP2 a bit mature!
Sjeez, we are behind in this topic!
@iratxe had the phone in Bilbao and brought it to Barcelona.
And now the phone is in München!
Maybe something we can add to the map of @stefan…
@Roboe was after a layer for the Community FP2:
It's back in Aix-la-Chapelle | Aken | Aachen!

… and now (7 February 2017) already going back home to Amsterdam!
Now back in Amsterdam. Making some small changes to it before sending it off again.
And @urs_lesse Made a great diary entry! Thnx!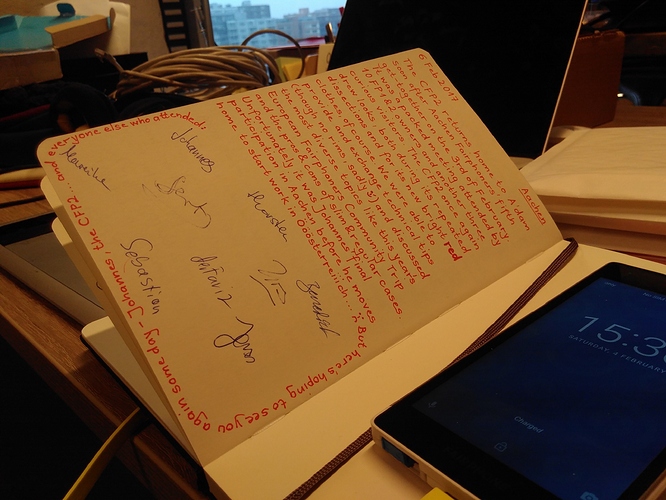 P.S.: Sadly, the CFP2 box had arrived in Aachen not spreading the enchanting scent it had come with the first time around. Is s/he taken now?
Uhm what?
I am missing something here…
When I got it in late October/early November, the box really smelled of perfume.
Oh, haha. I have no idea what may have caused that. Maybe the postman was going on a date after delivery

But if you look carefully at the pictures above, you can see that the next person who gets the CFP will also have a nice surprise
"Fairphone Change is in your hands" is that the new bootscreen for FP OS based on Android 6?
PS: @Aachen_Fairphoners how can you follow up the sentence "…moves home to start work in Ööösterreiich" with a frowney!
Haha, yes, that was what came to my mind when I just read @Douwe's allusion…