I applaud your initiative! Please keep us updated on their reply.
of course! (if you meant me as well
) I sent two requests, one to Waterkant as mentioned above, and one to RunGPS, as I wrote in the other topic.
Indeed will I give you all a ring about the return. CU
Actually, let me answer that for you right away:
On this page feuerwear has a casefinder if the phone you have does not appear in their list and you want to fit the size.
Looking at the specs of FP2 you can quickly figure out that Mitch 6 (39€) would be the correct case.
Cheers!
That is why I did a request to Feuerwear. I'm not sure about. Did you keep in mind that the FP2 is 11mm thick? I would think of the Mitch 10 is more suitable. But we will see. I'll keep you informed.
Hi! Got an answer from www.feuerwear.de, but all in all it's a little bit disappointing.
They are not sure if the Mitch6 is fitting the FP2, the next size is the Mitch 10. I should try in a store with their stuff which is working out.
No answer about a series or a special edition for the FP2 or changing the beltclip.
So sorry no really news!
Mitch6 uncertain is what I myself deduced as well, pity they can't give more exact info. I don't know of a shop where I can try it. WAAR in The Netherlands sells Feurwear bags, but only a small selection of the total arsenal. I'll probably order a Mitch10 for myself, but with the FP2 not being delivered before 21 december at the earliest there's no hurry.
But thanks for asking them, @vowi
Do they have smartphone cases there? I would imagine if they have the cases, they might have them in all their different sizes. There are only 6 different ones…
PS: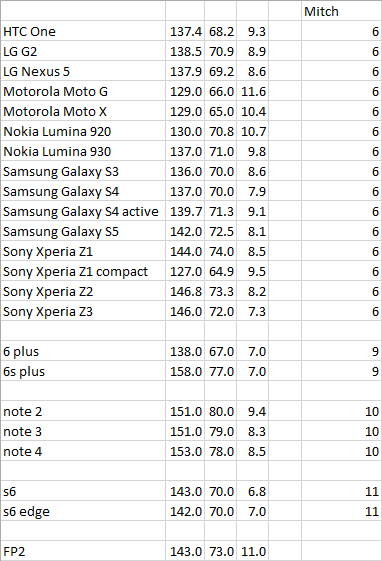 Hi @Vincent Hi @all! Got an additional answer from feuerwear about the cases.
Supposable there will be no special edition for the FP2, because it's next to Mitch6 ord Mitch10.
Other colours than red, white and black are not possible and a new Lightline (neon) edition will come up mid 2016.
The beltclip will not be changed for dual use (horizotal and vertical) because most of the customers prefer vertical.
There is a shopfinder in English
Nice weekend!
@Vinni where did you got that list for the Mitch cases??
Thanks @vowi for your inquiries.
In the Netherlands, Feuerwear cases can be bought offline at the WAAR fair trade store. They only sell the Mitch 6 however and it was sold out in my hometown, but the store will message me when it gets delivered to them again. Then if my Fairphone 2 gets delivered the week before Christmas, I can visit the store to physically try out if the Mitch 6 will fit. If not, I can always order the Mitch 10 online from feuerware.de. I will keep you all updated, if I indeed get the chance to try out if the Mitch 6 will fit the FP2 or not.
I checked on their website which phones they offer with which case and then wrote down the sizes of those phones
Which case for Fairphone 2 ? It would be nice if we could have a flip case, it's not ?
Best regards
Gad Bigbeta
How about the Freitag phone cases? They look pretty cool, and are made from recycled truck tarps.
Anyone now which one the FP2 will fit in ?? www.freitag.ch
Lots of talk about cases (which are not necessary) but not talk about screen protectors - has anyone heard of a company who is going to produce screen films for the FP2? I'd really like my screen protected from day 1…
Are you two sure these are the correct screen protectors? As far as I understand, the shops mistakenly sell the protectors as made for the FP2 but what they really mean is the FP 1U. It even says Fairphone 2 (2014) which means they can not mean the actual Fairphone 2…
What I can tell for sure: they won't fit on a FP1 and the cutouts can fit the FP2. So we will see…

Here the original link from amazon:
I wrote to the German pendant schutzfolien24.de and informed them about their mistake. Now they changed the description to FP 1U. They said they will add foils for the FP2 to their shop as soon as possible.
So to make it clear: The previously mentioned Foils DO NOT FIT for the FP2. That was a mistake by the foil resellers/manufacturers.