Yes I'd try that. Let it charge over night, that should be enough. If not: Maybe your charger/cable is bad?
Yes I'd try that. Let it charge over night, that should be enough.
Fine, I will do that.
If not: Maybe your charger/cable is bad?
I don't think so. My wife also has an FP1 and her phone and battery work fine. We use the same charger.
Hi,
My FP1 also has battery problems.
Today, it shutted down without any warning at 43% battery left after about three days of uptime.
When I plugged it to the charger, it displayed 54% of battery.
After a while, I powered it on and the battery indicator said 7%.
I left it plugged all the day. When it reached 43%, it suddenly said 100%.
Very strange, I don't what to do…
So, I gave battery reset another shot. This is how the charging cycle looked like:
05% at 11:03
05% at 11:05
12% at 11:12
17% at 11:22
19% at 11:25
25% at 11:33
32% at 11:43
38% at 11:52
44% at 12:01
51% at 12:15
54% at 12:22
56% at 12:31
58% at 12:45
60% at 13:00
64% at 13:30
100% at 13:52
Till 50%, the rate seems to be 5-7% for 10 minutes. Things considerably slowed down after 50%. I last noted the charge at 13:30 at 64%. And 20 minutes later, when I checked, it had already gone to 100%.
Plus, starting the phone has the same delay problem. I started it at 13:54. There was a blank blue screen for 5 minutes. The "Start a movement" and Fairphone logo came up at 13:59.
What do I do now? Any suggestions?
Thanks.
I'm not sure if the first charge which is part of the battery reset is representative for the coming charging cycles. But if your problem still persists and you still have warranty fairphone has exchanged batteries even if they didn't start bloating yet.
thank you Johannes for your answer. After posting I have done the reset routine a couple of times again, and found another cable (I think it's from Flying Tiger, so costs are not an issue) to try. And after some days it suddenly showed no problem at all anymore.
Curious how long this would last, I kept my breath, but battery and display kept working regularly. And my trust in technology is growing again.
Good luck and persistance to all with this problem!
Looks like the problem is still present. Today's charging cycle times:
24% at 10:06
32% at 10:20
41% at 10:37
49% at 10:54
100% at 11:19
There is the same abrupt jump to 100%. And now, in a 3 hours time, after listening to an hour of podcast, the charge is back to 43%. Obviously, it didn't charge fully the last time.
I have tried to get in touch with FP Support. Let's see what they say.
Also, is there any app that can document this charging rate? Currently, I have to manually look at the % and time and note it down. An app will help me analyse better.
Thanks.
There is an overview in Settings > Battery
The problem with tracking through Settings > Battery is that I lose the charging history once the charge hits 100%. I am attaching a couple of screen-shots of the charge cycle.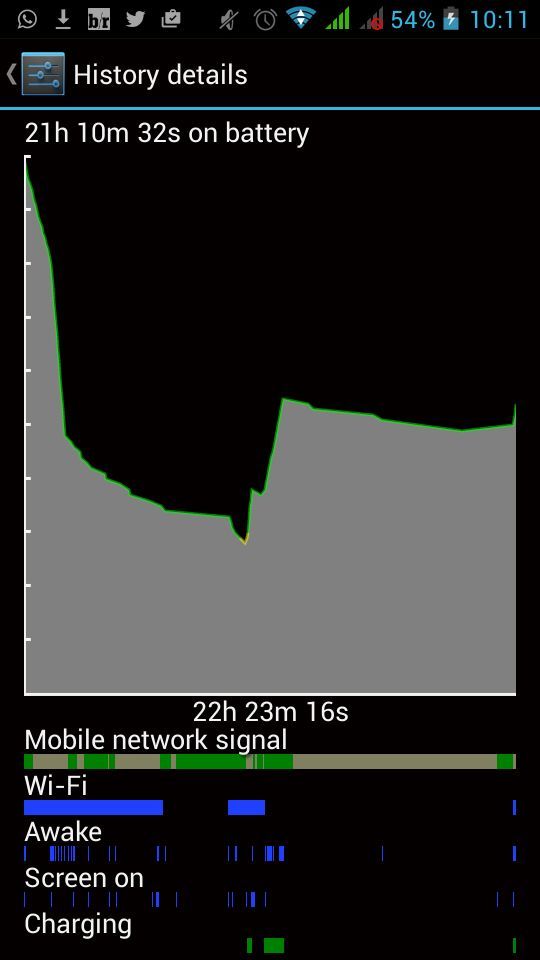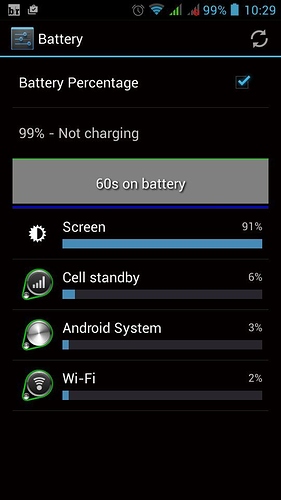 You can see that at 10:11, the charge was around 50%. In 18 minutes, it hit 100%!
I can only repeat myself
But keep in mind that support is way behind on requests atm. (understaffed, more requests than expected, flue epidemic, … Murphy's law)
As I have stated several times before: charging/status issues seem to be the first indication of a dying battery. Swelling will take place in a later stage.
Having said that: the new battery I received from FP a couple of months ago is now also starting to have charging issues…
So, I got in touch with the Fairphone support team and they asked me to order a new battery. I did that and it arrived yesterday.
Unfortunately, the same problem of taking a long time to boot continues. To quote from my earlier post:
In August of 2014, I mentioned how my phone discharged due to normal reasons and then, ever since then, it always takes at least 4-5 minutes to reboot. A major chunk of the reboot process has the phone only showing a blank blue screen. Once the Fairphone logo comes up (after 3-4 minutes), it works fine. My batter shape had not changed, and I learnt to live with that problem.
I restarted the phone to sync my date properly and it took more than 6-8 minutes after the blank blue screen for the Fairphone logo to come up.
What now? Any suggestions? Is it a software issue?
Hey, i have one moto e that was serving me good but suddenly one problem related to battery really is troubling me. The battery charges to 100 in 10mins., goes to zero in 5 then leave it for 10 to 15 minutes and start it again shows battery at 30% nd in 5 mins., its dead and i need to put it back on charge. Can anyone help me what to do? Phone is 1 yr old n 3G enabled. I do not overcharge or leave it unattended when charging.
As with every phone battery showing this behaviour: stop using that battery and get it replaced (if possible).
Also, I'd suggest finding a forum that is more relevant to your phone, as this forum is about Fairphone devices (in this section the FP1 specifically).
I have had also many problems with my FP1 battery, where it would suddenly drop the battery level from for example 95% charged to only 14%, loosing the last 14% in less than 2 minutes, swelling … I had to stop using my Fairphone, as the battery was getting bigger and I couldn't close the back anymore. And there were no batteries in stock anymore; so I had to purchase a new phone.
I want to share with you a picture of how my battery looks like now, after 4 months of not using it anymore, and having used the phone for only 2 years (and I don't use my phone very much I might add). It has bloated to an abnormal level. Ready to explode, as a bloated battery can be very dangerous. None of my previous phones' battery (some have 10 years now) ever did that.
I personally think that the FP1 batteries were of poor quality, and that now they even reveal to be potentially dangerous. Reading Fairphone's company values and how they want to be a fair business with transparency, I think they should have better acknowledged the problem and ensure its customers safety when discovering how bad the FP1 batteries actually were once the phone was in the market. Acknowleding the problem, and maybe trying to fix it by sending new and safe batteries to their FP1 customers (something similar to what car companies do when they recall all cars when dangerous deficiencies have been spoted) would have earned a lot of respect from my side, and saved this disappointment for this leading fair business innovation.
Fairphone acknowledged the problem and switched to a different battery producer for the FP1 (the same as for FP2).
Read more:
I hope the new batteries are better. I got a battery replacement in July 2015 because my first battery was bloated, and now that battery is bloated as well. So I just ordered yet another battery … I genuinely hope I don't have to order a new battery every year.
Exactly the same here

Time will tell about the quality, but the capacity is 5% more (2100mAh). And the battery seems to last much longer, but of course it's still brand new.
Since some time while charging my phone the battery percentage rises slowly and then suddenly says 100%.
At the same time the percentage plummets sometimes - more often after a restart than while using.
I realy don't get it.
More over since my battery sometimes lasts for 2 or more days and whith no specific things going different, only one day.
I really would like some advice/help!