Grüße zurück!
…
We have 14 attendants on Facebook already!!!
This is so nice to hear, I wished I could hop over!!! Have lots of fun and send us some pictures to the office:)
Übermorgen ist es so weit!!! Only two days to go!!!
@EvaS und ich freuen uns schon sehr. Besonders spannend ist, dass uns Anna beehren wird; sie hat früher bei FP gearbeitet und studiert jetzt in Wien. Sie wird uns ein bisschen über die Zeit bei Fairphone erzählen.

Außerdem sind ein paar Goodies direkt aus dem HQ in Amsterdam auf dem Weg nach Österreich, also ihr dürft gespannt sein!
We are quite excited already and you should be too!
Edit: Having a Skype call in a few minutes with @EvaS and @anon90052001 to have him tell us the latest news from HQ
Das Treffen war super! Es war sehr spannend, mit anderen FAIRPHONERN und Interessenten zu reden.
Danke Allen.
Besonders Stefan für's Vorbereiten!
Freue mich auf's nächste Treffen
@ FAIRPHONE. danke für die Goodies und für die lieben Wünsche, haben uns sehr gefreut !!!
How the 1st Fairphone community meet-up in Vienna went (17.12.2014)
At first we had troubles to find each other because the location (Christmas fair) was not ideal for a community meet-up. Besides it was quite cold (~10° C).
It was great to have Anna, as a former FP employee, join us and bring the goodies (T-shirts, folders, stickers) you sent us. Thanks again! Also a great thank you for the nice wishes signed by most of the team members.
Altogether there were 6 people attending the meet-up and we had nice discussions about the present device (Fairphone FP1(U)). First everyone introduced themselves. Then Eva told us about her experience with the replacement of her broken screen and Stefan talked about the 5 main
areas Fairphone is working in.
Although we had wished to learn more about the development of the next Fairphone, Anna did not let out any business secrets.

In the end everyone got their T-shirts and filled out the feedback forms.
Eva, Paul and Stefan stayed for an after-hours Bio-Punsch. We agreed to meet three days later to write this very letter.
Hi bin ein Neuzugang aus NÖ. Leider noch keine FP Besitzerin, plane das aber so bald wie möglich zu werden
falls also wer eins verkauft oder einen Tipp hat, suche eines
Es tut sich wieder was bei den Austrian Fairphoners!
Schaut euch doch den ersten Post an. Ich hab die neuesten Infos upgedated! Wer kann denn diese Woche Freitag (17.4.) kommen, um @anon70572005 in Wien kennenzulernen?

There is something going on again at the Austrian Fairphoners!
@anon70572005 is coming to Vienna this week and we will meet her on Friday (17.4.)!
Really cool! Very much looking forward to our meet-up on Friday! Please let me know if you have any 'special wishes' from us in Amsterdam:)
@Stefan, thanks a lot for spreading the word!
Hier ist der Link zu unserem 2. Community Treffen am 20.5.2015:
http://www.invyte.de/events/9386c08224802c1b526e5ea2ee9ff20e
Wer kommen mag, sagt bitte dort zu, damit wir vorbereitet sind.
PS: Der link findet sich auch im ersten Post.
Jetzt gleich mit @anon70572005, @EvaS und @paulakreuzer im Wiener Rathaus (siehe 1. Post) treffen.

Hoffe, es sind auch noch andere FP-Interessierte dort!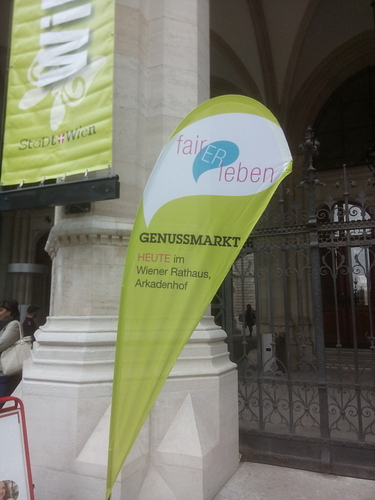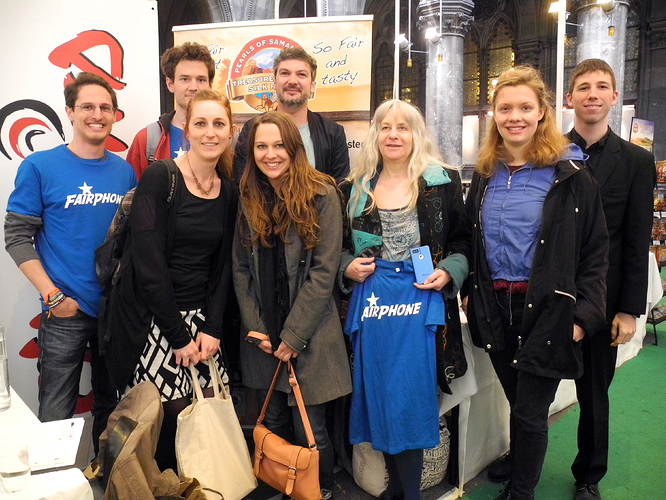 Schön wars! Danke an alle die gekommen sind!

[Edit by @Stefan:] v. l. n. r.: @Stefan (FP Community Moderator, Austrian Fairphoners Team), @paulakreuzer (FP Community Moderator, Austrian Fairphoners Team), @anon70572005 (FP Account Manager), Anna (ehem. Praktikantin bei FP), Georg Russegger (Kurator d. Vienna Open), @EvaS (Austrian Fairphoners Team), Sophie, David
@Eva, promoting the "Airphone"…
Im ersten Post findet ihr ab jetzt die Einladung zum 2. Fairphone Community Treffen in Wien + Urban Mining Workshop!!!
@neonroehreXX @Felix_Specht @ced1503 @fairebby @nadsat @Al_B @Carola_Siegel @chuckyjoe @Robert_P @Austria_fair
PS.: Falls ihr nicht in Wien und Umgebung wohnt, wäre das nicht ein Grund, einmal wieder in die Hauptstadt zu kommen?
Liebe Leute, mein Fairphone ist komplett kaputt, es geht auch mit einem anderen, intakten Fairphone-Akku nicht. Ich bin mit Fairphone in Kontakt, aber die scheinen auch keine wirkliche Hilfe anbieten zu können (außer einschicken). Gibt es in Wien/Umgebung jemanden, der das vielleicht reparieren kann?
Danke
Klaus
Hallo Klaus.
Willkommen im Forum.
Wenn du weisst was genau kaputt ist könntest du das Teil im Ersatzteileshop nachkaufen und selbst oder mit Hilfe von jemanden der sowas besser kann auswechseln. Bei iFixit gibt es einige Anleitungen.
Aber wenn du nicht weisst was kaputt ist musst du es wohl entweder einschicken oder zu einem professionellen Reparaturshop bringen. Wobei - insofern du dein Handy nicht zu oft fallen gelassen hast - einschicken die einzige Möglichkeit ist die nichts kostet, da du 2 Jahre Garantie hast.
Danke der Einladung, aber der Aufwand wäre doch etwas groß…


Grüße aus Vbg. und viel Spaß beim Treffen!
Albert
Wenn gar nichts mehr geht, tipp ich darauf, dass das Motherboard defekt ist. Ferndiagnose ist aber schwierig. Wenn du möchtest, dass ich mir das einmal anschaue, schick mir eine PM (klick auf meinen Namen und dann auf den rosa Button). Dann könnten wir uns in Wien treffen.
Danke. Leider weiß ich gar nicht, was hin ist, Akku und SIM-Card sind ok. Und Garantie habe ich auch keine, weil es schon Sprünge vom Runterfallen hat. Aber Stefans nettes Angebot nehme ich gern an.
Kann es sein, dass ich als new user keine PM schicken kann? Ich seh' da nämlich keinen rosa Button.