Same problem here. I tried "reset app preferences" on the "draw over apps" screen and now other apps don't work.
Well, after a lot of trying I think I fixed it. In my case I think that what worked was that I have some problems with the app "Google Play Services" but after updating this (and others) app in Google Play Store I was able to change the permissions. But I realized that with this update it only let you power off yor phone when you push the button, no reboot or Airplane mode…
Well, it worked only partially. I was able to give permissions to Whatsapp and Skype (maybe other, I don't remember) but now I can't give permission to Twitter or other apps. Any idea?
On my phone I finally found out an app was disturbing my efforts to change the Permission settings: CleanMaster. When I removed that app (temporarily) , I could make the changes that were needed. Maybe you also have a cleaning app or antivirus app that is interfering?
Erna you've nailed it! I had a blue light filter app that was interfering. I desinstalled it and now it works. Thanks so much!
You're welcome! I'm glad you found the problem
this is a #wiki post
List of Apps that can cause this problem (even with permission denied):
ESFile Explorer
Blue Light Filter/Night Light/Brightness controller Apps, e.g.:
Velis auto brightness control
Clean Master
Culprit Confirmed: ESFile Explorer
Just deactivating the "Draw over other apps" function was not enough. Force Stopping did help.
Thanks for the hint!
thank you, ESFile Explorer was the problem in my case.
Turning it off did allow me to set camera permission to my app
Thanks from Brasil Ema! I also had a blue light filter app. Now everything works just fine!
i had the same problem with you guys, my whatsapp cant use the camera feature because of 'screen overlay' issue, it cant grant the permission needed no matter how many times i turn off/on the settings to draw over other apps.
after i uninstalled ES File Explorer, it works. everything is fine now
Ok, the solution is not to bother about the overlay message. To solve the issue, every time you get the overlay message for an app, do next: dismiss all messages and exit the app, then go to the list of installed apps which is located in your phone settings, and search for the app that needs the permissions, select it and then open its permissions section, there grant all it's required permissions manually.
Keep in mind: This is not a bug, but a security feature. An app using an overlay could trick you into grating a permission without you noticing. This is the reason for this warning.
hi , same problem here
and i uninstalled these apps:
Clean Master
ES Explorer
SHAREit
and problem solved
tnx
Not working for me at all. After toggling the apps my Whatsapp will not all permission.
Anyone using a fairphone 2 been successful?
Still not working and getting the same error message
This topic was automatically closed 182 days after the last reply. New replies are no longer allowed.
Dear community,
Has anybody encountered this little techical issue: when trying to install any app and after allowing the app "to access photos, media, and files on your device" this message pops up (as per screenshot):
"Screen overlay detected: to change…"
Then, I go to settings (as per screenshot indication) but am not really sure of what exactly I should do / where to go!

How to "turn off the screen overlay" as requested??
Thanks a lot in advance!!
PS: for a bit of context: I have just installed OpenGApps, so maybe that altered a bit my system. But overall it's working splendidly!!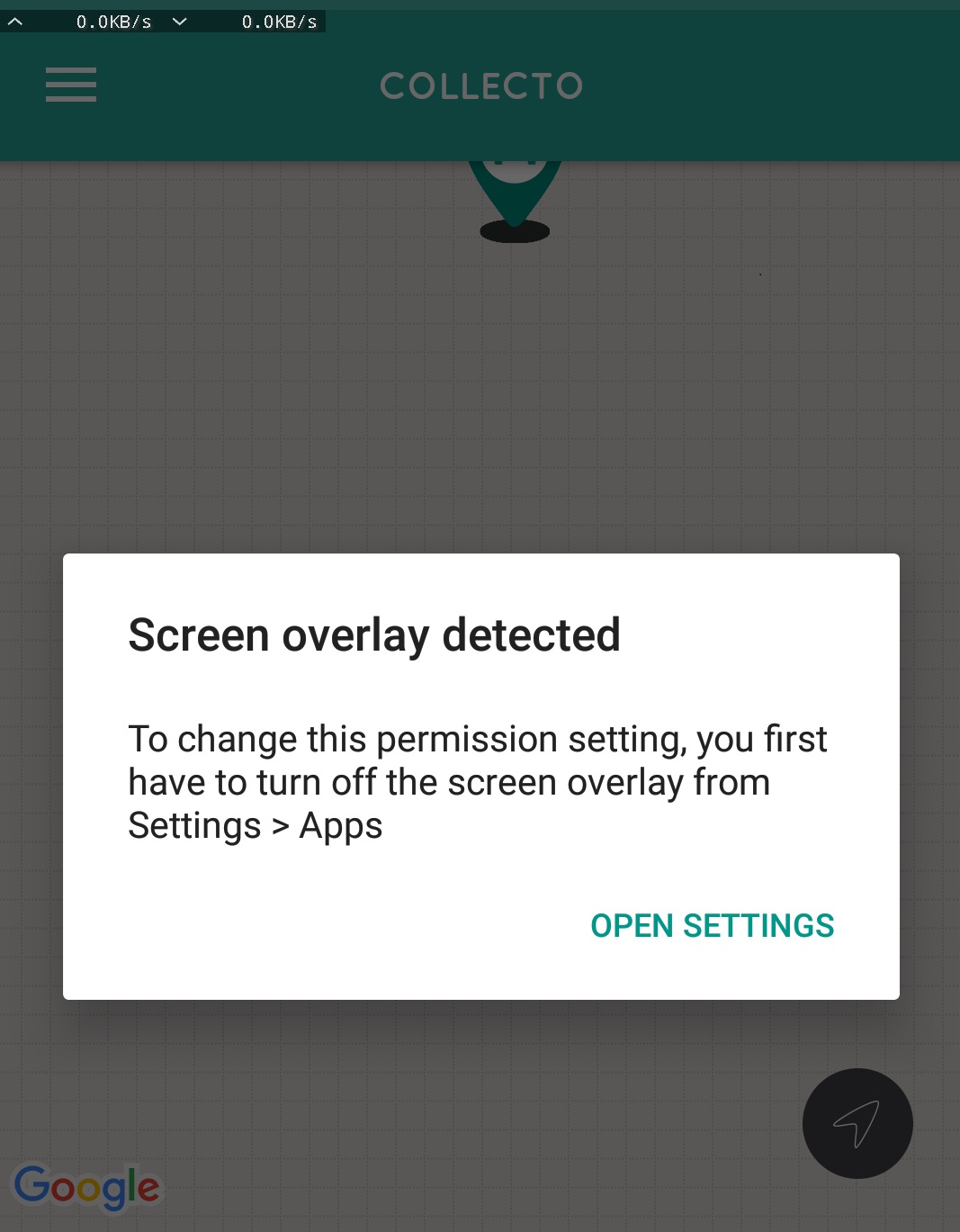 I moved your post here, please have a look at the first post and at the marked solution in this topic.